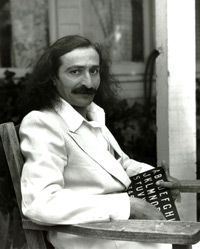 If you see yourself in a dream in which you enjoy becoming the queen, it continues for a long time, and if, all of a sudden, you see in the dream a snake attacking you, you wake up – both the good and bad dreams disappear. Here it was good at first – of enjoying becoming queen, and then the bad – of a snake attacking you. This is bad overlapping good. Both disappear on waking; so either the bad must overlap the good, or the good overlap the bad. But if already the soul has gathered impressions of greed, of anger, of lust – now they must be overlapped by their opposites – generosity, love, peace.
In the second instance, of service: when you think not of yourself, but of others, the thought about your own ego is replaced by thinking of others and gradually you forget yourself in serving others.
In the third instance, love: when the lover loves the Beloved to the extent of losing the self in the Beloved, then only the Beloved remains. So, naturally impressions then disappear.
It is so easy to do bad and so difficult to do good. Why? Because bad is already there.
Returning to the first point, I will give you two examples: of good overlapping the bad, of bad overlapping the good, and how both disappear. A dish is dirty. You take soap and water and overlap the dirt with soap; then in washing it – both disappear. Here the water is you. You are always present in the process of overlapping. The Indian way of cleaning a dish full of grease is with mud. Without water it will come clean. Both grease and mud disappear. In the overlapping of opposites – mud is the most greaseless thing, therefore opposite. The object is for both to disappear and attain a clean dish.
–www.lordmeher.org, p2250
[For a detailed account on Sanskaras, refer to the book  'Discourses'  by Baba.
– pdf version
– online version
– audio version]